US Marines have rescued one of their helicopters after it made an emergency landing on a beach in Okinawa, Japan. The aircraft was airlifted back to base using an even bigger helicopter.The US presence on Okinawa in southern Japan is a key part of the security alliance between the two countries.
The base houses about 26,000 US troops.There are plans to relocate part of it to a less-populated area of the island, but many Okinawans want the air base removed altogether.
U.S. military helicopter with a crew of two made an emergency landing Monday in Yomitan, Okinawa Prefecture, police said.The aircraft is believed to be a U.S. Marine Corps AH-1 attack chopper from the Futenma air station in Ginowan, Okinawa Prefecture.No ...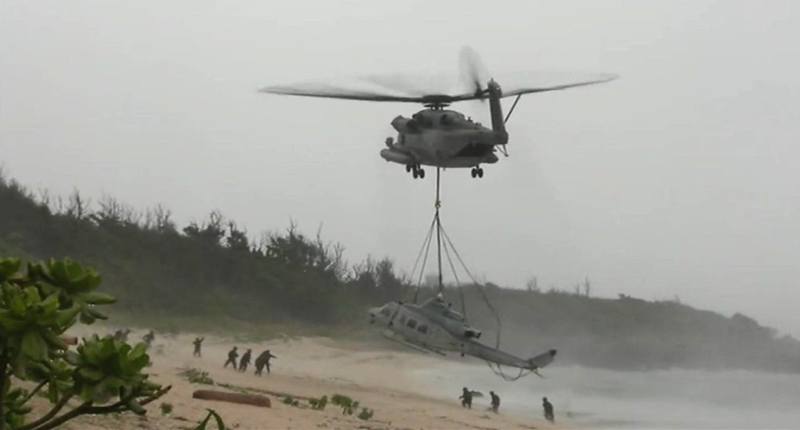 one was believed injured after the helicopter landed at a waste disposal site near a hotel in Yomitan."There will be more incidents unless we remove U.S. military bases" from Okinawa, said Kazumi Nakasone, a 67-year-old local resident living near the scene, said.
The police corrected the number of crew members aboard helicopter to two from the initially announced four.The incident followed a similar emergency landing Saturday by a U.
S. Marine UH-1 helicopter, belonging to the same base, on a beach at Ikei Island, a small islet in Okinawa.On Ikei Island last year, an AH-1 helicopter out of Futenma made an emergency landing at a farm, while last month a window from a U.S. chopper fell onto a school in Ginowan.